CURRENT AFFAIRS/HISTORY
---
Forty years after Pol Pot seized power in Cambodia, a new book assesses the human cost of his rule and the limits of international justice
---
Cambodia's brutal late-20th century history remains a mystery for most outsiders – and that includes the millions of tourists who flock to the South-east Asian country each year.
A new book ("poignant", "heart-breaking", "extremely thoughtful" and "beautifully written") by Cambodia-based journalist Robert Carmichael explains the fate of a nation and the continuing human cost of those years.
View a PDF of the press release here.
Bangkok, April 3, 2015 – On April 17, 1975, Pol Pot's Khmer Rouge movement took control of Cambodia and set about implementing one of history's bloodiest revolutions. By the time his regime was overthrown less than four years later, two million people had died from execution, starvation, overwork and disease.
The book takes as its central event the disappearance of a young Cambodian diplomat named Ouk Ket after his recall to Phnom Penh in 1977. His French wife, Martine, left behind in Le Mans with their two small children, spent years trying to learn his fate. Decades later that search brought her and their daughter, Neary, face-to-face with Cambodia's first war criminal at the international tribunal in Phnom Penh.
"At least one in four Cambodians died when the Khmer Rouge remade society to their bleak and brutal vision, yet the story of the country's darkest years is not nearly as well known as it ought to be," says author Robert Carmichael. "This lack of knowledge about a period that survivors refer to as 'the time when the clouds fell from the sky' was central to my decision to write this book."
When Clouds Fell from the Sky, which is published by Asia Horizons Books, weaves the lives of five people – three Cambodian and two French – across five decades: from the rise of the Khmer Rouge in the 1960s to the international tribunal's 2012 conviction of the regime's security chief, Comrade Duch, for his role in the torture and execution of more than 12,000 people at the notorious S-21 prison.
"The stories of these five individuals at the heart of the book's narrative give readers a clear understanding of what happened and, more importantly, why it happened," says Carmichael. "The appalling human cost borne by survivors and relatives of the dead remains current, and what took place here contains vital lessons for us all."
###
---
When Clouds Fell from the Sky: A Disappearance, A Daughter's Search and Cambodia's First War Criminal; Asia Horizons Books Limited, [Hardback: ISBN 9786167277127, USD $27.50], [Paperback: ISBN 9786167277134, USD $18.50]; size: 23cm x 15.5cm; 364pp, 8pp B&W images, 2 maps.
---
About the Author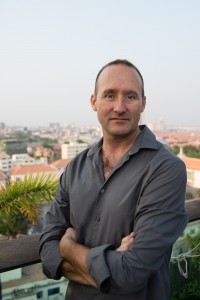 Robert Carmichael is a South African journalist who has reported from Cambodia for eight years.
From 2001-03 he was the managing editor of the Phnom Penh Post newspaper.
He returned to Cambodia in 2009 to cover the trial of Comrade Duch, the former head of the Khmer Rouge's torture centre S-21, in order to understand better the causes and consequences of Pol Pot's 1975-79 rule.
Carmichael, who is 45, is married and lives in Phnom Penh. When Clouds Fell from the Sky is his first book.
Since his return he has reported regularly for numerous international outlets including the German Press Agency dpa, Voice of America, Radio Australia and Deutsche Welle.
His work has appeared elsewhere too, including BBC radio, CNN and Foreign Policy.
---
About the Book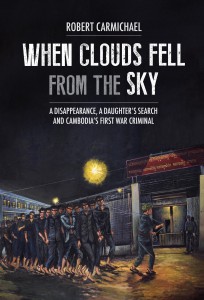 When Clouds Fell from the Sky: A Disappearance, A Daughter's Search and Cambodia's First War Criminal (Asia Horizons Books Ltd, 2015, Hardback: ISBN 9786167277127, USD $27.50; Paperback: ISBN 9786167277134, USD $18.50; Kindle: ASIN: B00VEBAJQO, USD $9.99; www.whencloudsfell.com).
The book is available for pre-order on Amazon Kindle ahead of its April 10 release, and – in Cambodia, Myanmar and Laos – through Monument Books. In Thailand it will be sold through Asia Books and Kinokuniya.
The book takes as its centrepiece the life of a young Cambodian diplomat and his disappearance in 1977.
Through that event and the 2009 trial of the Khmer Rouge security chief ultimately held responsible, it tells the story of a nation enslaved by one of the century's most brutal regimes, and shows how the damage done during those years remains undimmed.
---
Praise for When Clouds Fell from the Sky
"The search for traces of Ouk Ket in the wasteland of Khmer Rouge history and 2009 Phnom Penh makes an absorbing story, and the narrative is bolstered by Carmichael's clear-eyed account of Duch's trial (including Martine and Neary's searing testimony) and by his astute reflections on memory, belated international justice and the Khmer Rouge era. Crisply written, elegantly constructed and thoroughly researched, When Clouds Fell from the Sky is a perceptive, often heart-breaking book."
− David Chandler, author of Voices from S-21: Terror and History in Pol Pot's Secret Prison
"This is both the poignant story of a young woman seeking the truth about her father's disappearance at the hands of the Khmer Rouge regime, and an unflinching portrait of the executioner who oversaw the torture chamber where he was imprisoned. An unforgettable book."
− Elizabeth Becker, author of When the War Was Over: Cambodia and The Khmer Rouge Revolution
"Combining extensive historical research and analysis with colourful narrative, When Clouds Fell from the Sky is arguably the most vivid and terrifying literary portrait of the prison to date."
Bennett Murray, Phnom Penh Post, April 2015
"A beautifully written book that does a masterful job weaving the history of the Khmer Rouge tribunal with a more personal story of human tragedy and redemption. This extremely thoughtful work is the product of its author's deep understanding of Cambodia. Anyone trying to make sense of the Khmer Rouge war crimes court should read this timely book."
− Peter Maguire, author of Law and War, Facing Death in Cambodia and Thai Stick
"Carmichael writes intelligently about a complicated subject that continues to haunt the survivors, be they Cambodians or anybody else from the myriad of foreign powers that dabbled in this country's tragic history."
− Luke Hunt, The Diplomat, March 2015
---
Media Interviews
To interview Robert Carmichael, please contact him by email.
For more information please visit www.whencloudsfell.com. The website hosts material such as photographs, interviews and reviews, and will be added to in the coming weeks. A multimedia page will soon have audio and short videos relevant to the book, including a video of S-21 prison and another of the Chhoeung Ek killing field outside Phnom Penh where most of S-21's prisoners were murdered.
---