Situation: the jacket for my book was laid out in InDesign CS6, but it kept failing IngramSpark's requirements.
Problem: the ink density was greater than 240 percent, so IngramSpark rejected the jacket.
I struggled mightily with this – IngramSpark rejected my jacket submissions time after time on the grounds that the density was greater than 240 percent.
Their actual email looks like this:
Hello,
We have encountered an issue with the below title. Please review the following rejection details:
ISBN: 9781911119005
Title: When Clouds Fell from the Sky: A Disappearance, A Daughter's Search and Cambodia's First War Criminal
Reason: INK COVERAGE EXCEEDS 300% CMYK ON THE COVER (The top of the spine and front cover)
Solid areas of color on the cover exceed 300% CMYK. This will cause printing problems such as streaking, spotting, and cracking.
The overall combined percentage of CMYK values of artwork for our presses should be less than 240%. For example, the 'rich black' we recommend would be 60% Cyan 40% Magenta 40% Yellow 100% Black (60+40+40+100=240%).
All colors in the artwork should contain less than 240% CMYK overall color density. Adjust the affected areas on the cover, and resubmit the PDF.
(It's worth nothing that Amazon's CreateSpace had no such problems with the jacket – even though the ink coverage peaked at around 330 percent.)
IngramSpark's suggestion was to lay out the jacket in their template, but I didn't want to do that because (A) the jacket was already laid out in InDesign, and (B) I didn't quite understand their template.
And that meant I was pretty much on my own. After all, I had no idea how to limit the CMYK to their requirements, and what I could find on IngramSpark's website was of little use. Other posts I unearthed talked about changing the curves in the images, or provided complex solutions that I didn't understand.
After much searching and some trial and error, the following two things helped:
I read David Blatner's excellent InDesign Secrets article titled: "Force Color Images to CMYK with a 240% Ink Limit".
Because of that, I changed my images on the jacket from CMYK images to RGB images (more on why that is important appears below).
Blatner's post put me on the right track, but it didn't solve my problem entirely – mainly because I didn't understand a key element of his post. More on that in a second.
Part 1 of the solution: CMYK and RGB
As you can see from the PNG below, my jacket has two images: the author photo and the front jacket photo, which is of a painting. My designer had used the images in the CMYK format when laying out the jacket in InDesign. Although she was quite right to do so, this was the cause of the problem for IngramSpark.
The solution was simple enough: I opened the jacket in InDesign, saved it under a new name (just in case), then in the Links panel I right-clicked on the first image, then Edit With/Adobe Photoshop.
Then in Photoshop (I use Photoshop CS6), I converted that image from CMYK into RGB format (using Image/Mode/RGB Color). Then I saved that image under a new name (with the text RGB in the file name), and did the same to the second image.
Back in InDesign in the Links panel I again right-clicked on each image name and Relink, then linked to both new image files. That meant the images on the jacket in InDesign were no longer the CMYK images, but were the newly created RGB images.
I was now halfway there.
Part 2 of the solution: Blatner's article
Now, please read his article in its entirety, because it's got a ton of useful information in it, and Blatner's way smarter than me on this stuff.
For my purposes, here's the key takeaway: I needed to download an ICC colour profile that I would then use to ensure the ink coverage on the jacket I exported from InDesign was less than 240 percent.
I used the ICC colour profile that Blatner created himself (see the link on his page for that), and it worked a treat.
(Blatner's colour profile is called: SWOP Coated 240% Ink Limit.icc – but, as he says, there are others you could use.)
Blatner's article has full instructions on how to use this, so there's no point in my repeating his sage advice.
But here's why it worked: by now I had my jacket in InDesign with the two images as RGB (not CMYK, as they were originally – we changed them to RGB in Photoshop in the first part of this solution). So I simply needed to apply the ICC colour profile (see the last couple of paragraphs of Blatner's article for his instructions on how to do that) prior to exporting the jacket.
What this ICC colour profile does is exactly what IngramSpark needs: it converts your RGB images to CMYK (because that's what the printer needs) for the export, but – and this is the important bit – it restricts the percentage ink limit to 240 percent.
Voila – you've met IngramSpark's somewhat weird requirement.
I mean, yes, so it's somewhat circular because your original problematic jacket had CMYK images and your new jacket has CMYK images – it's just that in getting there you've used the RGB format and Blatner's ICC colour profile to crunch those images down to IngramSpark's satisfaction level of 240 percent.
After that you should still check that the jacket meets IngramSpark's requirements, including that for the ink limit. To do that, export the jacket as a PDF, open Adobe Acrobat Pro and use the Tools/Output Preview function to check each area on the jacket for its colour density. I used the following settings: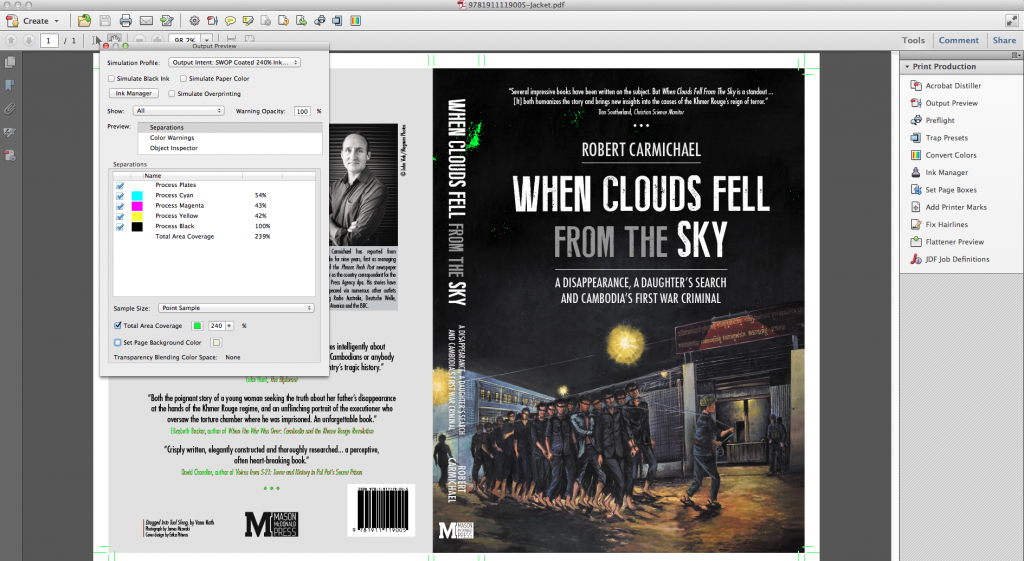 One point to note – you'll see that I set the Total Area Coverage to highlight (in green) anything that hits the 240 percent limit, and you can see on the screen that there are a few green areas (at the top of the spine, for instance). However none of them breaches that limit (and some, at 239 percent, are just below it) so I felt OK about uploading this to IngramSpark. And they were happy with it. (That green colour is only on the screen – it won't appear in print.)
And so to your final step: once you're happy with the jacket, upload it to your IngramSpark account and wait 24 hours for them to OK it. That's it. Done.
I hope this helps.